Rental
A Frames | Magnum | Attached Lid Container | Garment Rail | Maxicage | Pallet Convertor | Hybox | 3 sided A Frame | Pool Pallet | Dollies
Simons Reeve Rental is the UK's premier rental supply company.
With an extensive range of equipment including roll cages, garment rails, plastic boxes, plastic trays, containers and pallets, and stillages. We can normally supply on an ex-stock basis.
Rental equipment is available for short and long term contracts, offering flexibility in the acquisition of equipment. Working to ISO:9001 you can be assured of high levels of quality, internal and external procedures and customer service.
Some of the financial benefits of renting are:
No capital required

Improve cash follow

Tax deductible

Simplified accounting

Low cost long term contracts available

Inclusive maintenance can be included.
---
Full Security 'A' Frame roll cage
Simons Reeve roll cages (or roll containers) are manufactured to the highest standard. These nesting 'A' frame roll cages are ideal for applications that require a fully secure materials handling solution. Product is surrounded on all sides and the lid is lockable. The fine mesh sides ensure that, although contents are visible, access to contents of the roll cage is impossible. <back to top>
Below are some of the features of our Full Security Nesting 'A' frame roll cage.

Overall size: 737mm(w) x 860mm(d) x 1676mm(h)

Can be secured by plastic or metal security seal

4 mesh sides and lid

Integral folding shelf

125mm diameter white nylon castors - 2 fixed and 2 swivel

Zinc plated finish

500kg capacity
---
Magnum - Folding Pallet Box
Rapidly becoming the storage medium of choice where hygiene is paramount, the Magnum folding Box is a versatile storage and transport solution. Made from tough plastic, yet relatively light, there are fewer health and safety issues compared with other similar storage solutions. It can be collapsed easily for transport and to save storage space. <back to top>
The features of the Magum Folding Pallet Box are:
Overall size of 1200mm x 1000mm x 975mm

Heavy Duty Folding Pallet Box

Manufactured from HDPE - grey and black

Folds for storage and return transit

Easy and quick assembly

Fitted with 2 x opening doors

Stack 4 high

Available with lid
The Magnum is ideal for heavy duty applications. For lighter applications, you may consider the Hybox collapsible pallet box.
---
Attached Lid Container
The Simons Reeve ALC (Attached Lid Container) is an ideal general purpose storage an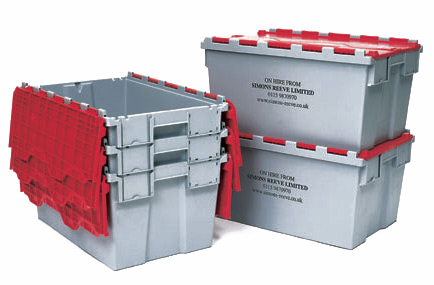 d transport solution. Manufactured from heavy duty plastic, it is ideal for a wide range of materials handling applications. The integral lid keeps contents secure yet grants access easily. The Attached Lid Container can be stacked to save valuable space. <back to top>
The features of the Attached Lid Container are:
Overall size of 600mm x 400mm x 300mm

Manufactured from HDPE - grey box with red lid

Can be sealed to help prevent pilferage

Nesting for storage and return transit
---
Garment Rails
Used in warehouses and the retail environment, our rails offer strength, quality and high level of manoeuvrability. <back to top>
Overall size: 1220mm(w) x 560mm(d) x 1830mm(h)

Heavy duty tubular construction

125mm diameter white nylon castors – 4 x swivel

Epoxy powder coated finish

Options include centre rails, ID plates, different types of finish and castor

As manufacturers, we are also able to tailor our rails to whatever size you require.
---
Maxicage - Folding Wire Containers
Lightweight, but very robust, these containers are ideal for the storage of a wide range of products
<back to top>
Overall size: 1200mm(w) x 1000mm(d) x 980mm(h)

Heavy duty construction

Front folding gate for easy access

Folds down for storage when empty

800Kg capacity

Stack 3 high

Bright zinc electroplated finish

Available as 1200mm x 800mm base size
---
Pallet Convertors
Turn a wooden pallet into a 4 sided container with pallet converters from Simons Reeve. Light weight and easily attached to the base, these containers are the ideal solution to cutting shrinkwrap bills and storage issues. <back to top>
Strong mild steel construction

Mild steel mesh in-fill to all 4 sides

Drop 1/2 front gate for easy access

Up to 1000 Kg capacity

Durable bright zinc electroplated finish

Stack 3 high when in use

Fold flat to save space when in storage

2 standard models are available:

PC800 - 1200mm(w) x 800mm(d) x 1050mm(h)

PC1000 - 1200mm(w) x 1000m(d) x 1050mm(h)

Other sizes are available upon request
---
Hybox
The Hybox is a general purpose storage box that is ideal for food and light industrial uses. It is easy to assemble and dismantle and is ideal for keeping return transport costs to a minimum. <back to top>
The features of the Hybox are:

Overall size: 1200mm(w) x 1000mm(d) x 1220mm(h)

Injection moulded pallet base and lid. Extruded polypropylene sleeve (sides)

Fast assembly and demounting

Fold down for storage and return transport

500kg capacity

Stack 3 high

Ideal for lighter duty and food applications

The Hybox is suited to the storage and transport of lighter items. For heavy duty use, the Magnum is a more suitable materials handling solution.
---
3 Sided Nesting 'A' Frame Roll Cage
This roll cage from Simons Reeve is a popular choice amongst materials handling professionals. Featuring three sides to contain product, with an open fourth side for ease of access – particularly important if the roll cage will be accessed frequently. Mesh straps can be used to secure the contents of the roll cage when in transit. <back to top>
For a roll cage with 4 solid sides, look at the Simons Reeve 4 sided nesting 'A' frame roll cage.
Features of the 3 sided nesting 'A' frame roll cage are:

Overall size: 737mm(w) x 860mm(d) x 1676mm(h)

3 sides

Mild steel rod in-fill

125mm diameter nylon castors – 2 fixed and 2 swivel

Zinc plated finish

500kg capacity
---
Pool Pallet
Like the plastic Hygiene Pallet, the Pool Pallet is a modern alternative to the wooden pallet. Recyclable and more durable, the pool pallet is a versatile materials handling solution, ideal for most industrial sectors. If hygiene is paramount, the Hygiene Pallet may be better suited to the task. <back to top>
The features of the Pool Pallet are:

Overall size: 1000mm(w) x 1200mm(d) x 166mm(h)

Window opening 97 mm *dimensions in accordance with ISO,AFNOR, DIN, CEN

Load capacity: Static 5.000 kg, Dynamic 1.250 kg, In rack 1.250 kg

Weight 26 kg (+/- 0,2 kg)

Temperature range: In use -20°C up to +60°C, Cleaning up to +100°C

Heavy duty construction,well suited for intensive use in logistic companies

Standard colour: grey

High impact-resistant PPC

Pallet body and pallet runners: structural web

Suited for use on automatic conveyor systems

Biologically stable

Adapted to use with wrap and shrink films

Perimetric impact zones

UV and weather resistant

Anti-slip rubber inserts in upper and lowerdeck

Special colours available upon request (minimum order: 500 units)

With or without retaining rim

Hotstamp personalisation

Anti-slip strips on topdeck of the pallet
---
Dollies
Our range of plastic and metal Dollies are designed for moving 600mm x 400mm trays and containers. They are lightweight, easy to move and come fitted with 100mm nylon castors. <back to top>